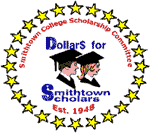 ---





SMITHTOWN COLLEGE SCHOLARSHIP COMMITTEE
Recent Highlights

Welcome to the Smithtown College Scholarship Committee website. We would like to acknowledge everyone who participates in our fundraisers and we thank you for your support.

Holiday Craft & Gift Fair, Sat. - Sun., December 12-13, 2015
Smithtown H.S. East
This event has concluded. Thanks to all who attended!

An Evening of Magic Starring Mike Malone - View Flier
Fri., January 22, 2016
Great Hollow Middle School, Southern Blvd., Nesconset, NY

Gala Concert XL, Sat., March 19, 2016
Smithtown H.S. East

Gala Concert XL, Sat., March 19, 2016
Smithtown H.S. West
---
This year the Smithtown College Scholarship Committee has once again partnered with Towers Flowers of Nesconset to provide an opportunity to celebrate your student musician's Gala performance. Click here to access the Smithtown District website for more information, which incudes the bouquets you can purchase for $15 each. Or, to see each bouquet now, click:
---
The 2016 Scholarship Application is now available.
---
Questions may be directed to our e-mail address; it is checked several times daily: smithtowncsc@yahoo.com.
---
The Smithtown College Scholarship Committee is proud to announce the award of $2,000 scholarships to each of the following 2015 Smithtown High School graduates. These scholarships are made possible by the generosity of the community that supports our many fundraisers each year! Thanks to all and best wishes to our honorees!


High School West:

Sarah Caulfield
Stephen Diehl
Jake Hurley
Alicia Kimmelman
Julia Newman
Katie Umana

High School East:

Joseph DeMato-Garcia
Saige Ferentinos
Gabriella Link
Nick McMahon
Abbie Sagastume
Erica Sullivan

---
Click here to visit the Smithtown School District website.
---